HEAD STUDS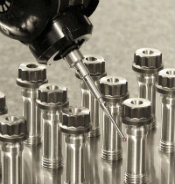 ARP Head Studs
ARP Head Studs prevent Head Gasket Failure in Ford Powerstroke, Dodge Cummins and GM Duramax diesel engines!
ARP extra heavy-duty head studs are rated at 220,000 psi tensile strength and provide the clamping force required to keep cylinder heads from lifting due to diesel engines' higher combustion pressures.
Features: *Heat-treated threads rolled to provide optimum fatigue strength *Center-less ground studs assure perfect concentricity *Ends are broached for easy installation and cylinder head removal in tight quarters *Includes heat-treated, chrome-moly steel 12-point nuts and parallel-ground washers *Black oxide finished for extra durability.
What truck do you have?
American Made in the ARP manufacturing plant in Santa Paula, CA, ARP is the undisputed world leader in automotive fasteners. They manufacture every fastener, bolt and nut that the world's top engine and chassis builders rely on in house. ARP engineers ensure that every piece will outperform any other fastener on the market today. That's why so many top engine builders rely on ARP racing products to hold their engines together.
ARP® uses a premium grade 8740 alloy that is rated far superior to "aircraft" quality. Then, each stud is precisely heat-treated to 200,000 psi. Following heat treat, each stud is center-less ground to make it as close to perfectly concentric as possible. This procedure involves about ten very slight cuts and results in an exceptionally straight part. It's important to note that lesser quality studs are not even center-less ground, the material is thread rolled in bar stock form (mostly before heat-treat, when the material is easier to machine). Because ARP® studs are manufactured to such exacting tolerances, you will note that gaskets and cylinder heads literally glide into position and are perfectly aligned, something that won't happen with inferior quality head studs.
ARP® studs are thread rolled after heat-treat, which gives them about 1000% (that's ten times) better fatigue strength than those studs that are threaded prior to heat-treat.
You will also note that ARP® offers specially undercut studs for several engines. This procedure (done only to the shorter studs) more equalizes the "stretch" of both studs, which makes for a more consistent clamping force, one that compensates for head gasket compression when the head is installed. This helps prevent blown head gaskets, and assures optimum sealing!
Premium parallel ground washers are also included with each kit.
TECH TIPS: HEAD STUD INSTALLATIONS
Clean and chase all bolt threads in block to ensure proper thread engagement and accurate torque readings.
All hardware should be cleaned and inspected for possible shipping damage prior to installation.
Since most studs extend into the water jacket, coat threads with ARP thread sealer and screw in hand tight ONLY.
Install gasket and head, then lubricate washers and nuts with oil or ARP moly assembly