5.9L Cummins '03-'04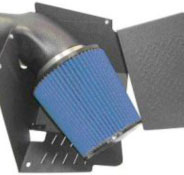 Air Intake Systems
AFE Air Intake Systems and Intake Filters for Ford Powerstroke, Dodge Cummins, and GMC Chevy Duramax diesel pickup trucks.
A simple yet effective upgrade every diesel owner should make is installing a performance air intake system. Everything your engine does, even pulling in air, requires work. Anything you can do to reduce the work of your engine will result in better fuel economy and more power.
The high-flow performance filters that come with AFE Intake Systems are free flowing filters. The Pro Guard 7 filters are washable & reusable, enhance air flow, and last longer than the OEM filter.
AFE has designed three different air intake systems to meet the needs of your power hungry engine.
-For the largest possible performance gain replace the entire air box and intake tract with our STAGE 2 open element air intake system.
-If you want to maintain a factory appearance our STAGE 2 Si sealed air box provides quiet power.
-For a great value and easy installation our STAGE 1 air intake systems adds instant horsepower and torque.