715-254-2307 Shop By Product
Shop By Vehicle
5.9L Cummins '94-'02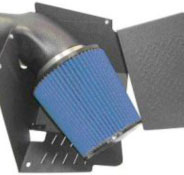 Air Intake Systems
AFE Air Intake Filters for Dodge Cummins 1994-2002 diesel pickup trucks.
-For the largest possible performance gain replace the entire air box and intake tract with our STAGE 2 open element air intake system.
-If you want to maintain a factory appearance our STAGE 2 Si sealed air box provides quiet power.
-For a great value and easy installation our STAGE 1 air intake systems adds instant horsepower and torque.