RevX Performance Enhancing Oil Additive
Application Guide Diagram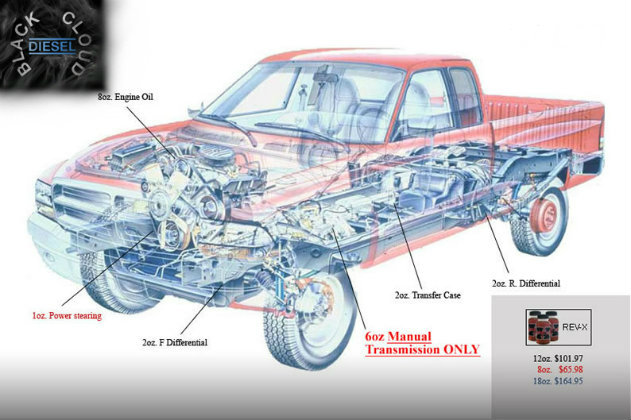 When first added to any lubricating fluid REV-X Performance Oil Additive will blend with the lubricating fluid to generate a smoother running unit within minutes. As the treated component (engine, transmission, differential or hydraulic system) runs through heat cycles the additive is absorbed into the pores of the work hardened metal surface that it lubricates.

This creates a polarized attraction of additive that flows within the treated components lubricating fluid until the lubricated surface has a film layer 4 times thicker and more than 2500 times denser than any lubricant can provide (standard or synthetic) without increasing the viscosity of the lubricating fluid being used. As the treated lubricating fluid continues to flow across the work hardened surface the additive continuously replenishes itself while maintaining both depth and density of the film layer regardless of temperature or load factors. When a reduction in friction and temperature occur within the treated component, an increase in efficiency is gained. This increase in efficiency promotes extended service life of all internally lubricated components as well as extending drain intervals on all treated units lubricating fluids.
Benefits of using REV-X Performance Oil Additive:
Increased Efficiency
Increased Engine Performance
Increased Drain Intervals
Reduction In Maintenance Costs
Reduction In Heavy Repairs
Increased Cold Start Lubrication
Reduced Underhood Temperatures
More power to the wheels
The higher the torque, the better Rev-X works
Greater longevity and miles per gallon
Protects against breakage and worn out metal parts
Better cold temperature starts
Great for noisey power steering pump problems
Great for sticky injector valves in 6.0Ls
Doubles oil change interval
Cleans fuel lines
Stabilizes low sulfur fuel and BIO additives up to 1½ years
Why wouldn't the oil industry sell you the best possible fluids that they could create in the first place?? Simple! They would stand to lose billions of dollars per year. The oil industry has always operated on the principal of quantity vs. quality and in that frame of mind they compete amongst themselves with price structures based on quality and product tiers.
Heavy duty engine oil products are comprised of three items, Base stock, additives package and packaging. In knowing the three items it becomes clear that there is only one aspect of the formula that can be reduced for any cost constraints, the additive package. The additive package is responsible for determining what specifications the lubricant can or cannot achieve due to its active properties. REV-X Performance Oil Additive is a highly complex formulation containing none of the harmful additives such as Teflon, graphite or moly, and is designed to work with all existing lubricant formulations to reduce friction and thermal temperatures while drasticly increasing shock load properties on all stressed internally lubricated components. High performance anti-oxidant additives, detergent agents and seal softening agents also incorporated into the formulation allow any base fluid to be enhanced into a grade of lubricating fluid that cannot currently be purchased at any price!
Starter Kit Includes:
4 X 4oz. Bottles of Rev-X Oil &Lube Treatment
8oz. Fuel Treatment = ( 200Gal.of fuel)