2005 Dodge Cummins 5.9L South Bend Clutch
South Bend Clutch Authorized Distributor!
800-872-1944

Free Shipping
1994.5-2004 Cummins NV4500 5 Speed
Revers is to the Right and Down
2001-2005
Cummins
24 Valve with NV5600 6 Speed Transmission.
Reverse is to the Right and Up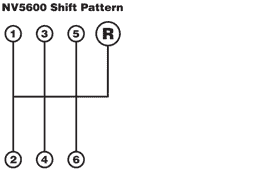 24 Valve Dodge 6 Speed Single and Street Dual Disc Clutches with NV5600 Transmissions using 1-3/8" Input Shaft Note: Most but not all 99-00 are Non-HO trucks with the NV5600 and had a 1.25" input shaft and 12.25" flywheel. There are also some 99-00 HO trucks clutch which are the same as the 2000.5 - 2005 HO trucks that have the 1.375" input shaft and 13" clutch.
All Solid Mass Flywheels. Light Truck Diesel Clutches-Powerstroke, Cummins, Duramax -All South Bend Clutches have the Solid Mass Flywheels. Heavy Duty Single Disc Clutches, Street Dual Disc Clutches and Competition Double and Triple Disc Clutches! Solid mass is what you need , for any heavy duty clutch.
Put a clutch in your truck that wont slip, chatter, throw disc springs, wear the flywheel or burn up pilot bearings. It doesn't get any better than this, and you wont find a better made clutch kit than a South Bend Clutch. Diesel Performance Clutches Made In America!